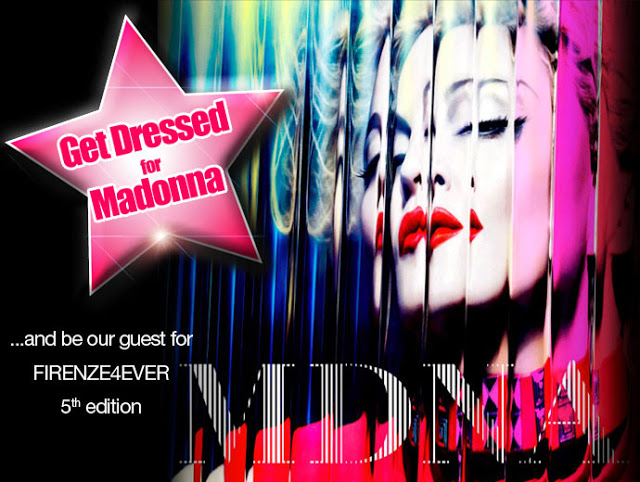 Ciao a tutti ragazzi e buona domenica! Rubo solo pochi minuti del vostro tempo per dirvi che partecipo al contest "Get Dressed for MDNA" organizzato da Luisaviaroma. Lo scopo del contest è realizzare la maglietta che i bloggers indosseranno il 16 giugno per la tappa fiorentina del concerto di Madonna.
Tra tutti coloro che voteranno verrà estratto un vincitore, che riceverà un buono del valore di € 500 da spendere presso Luisaviaroma.com. Vi chiedo pertanto, se vi fa piacere, di votare la mia maglietta. Per farlo dovete semplicemente:
1) clicca su
questo link
;
2) scorrere fino alla quarta riga, la mia maglietta è la seconda da sinistra, quella nera con scritto "
Strike a pose. Blogue!
"
3)
cliccare sulla manina
nera e seguire le indicazioni del server.
Mi raccomando: una volta inserito il vostro indirizzo mail, come richiesto, riceverete un'e-mail da Luisaviaroma che vi chiederà di confermare il voto. Se non seguirete questo passaggio, il voto non sarà conteggiato, né tantomeno avrete la possibilità di venire di vincere il buono da € 500. Per votare avete tempo fino al 31 maggio!
Vi ringrazio immensamente già da ora. Se mi votate e vi fa piacere farmelo sapere, lasciatemi un commento qua sotto 😉
Hi guys and have a nice sunday!
Can I have a moment of your time? I'm participating in a contest organized by Luisaviaroma, "Get Dressed for MDNA".
The aim of the contest is realized the FIRENZE4EVER t-shirt for the bloggers to wear to Madonna's concert in Florence, June 16th 2012.
Among all voters, one lucky voter will be selected and win a € 500 gift card to spend at Luisaviaroma.com.
So I kindly ask you to vote for my entry, if you like it. Here are all steps:
1) click
this link
;
2) four lines from the top, the second t-shirt from the left is mine: the black tank top, which has written "
Strike a pose. Blogue!
" on.
3)
click on black hand
and follow server's requests.
Please, pay attention: once you insert you're mailing address, you'll receive an e-mail from Luisaviaroma, which will ask you to confirm your vote. If you do not confirm by clicking the confirmation link, the vote won't be valid and you won't be able to be selected for winning the € 500 gift card. You have until 31st May to vote!
I wanna thank you so much for your time and your interest. If you vote my entry, please let me know in the comment form below this post 😉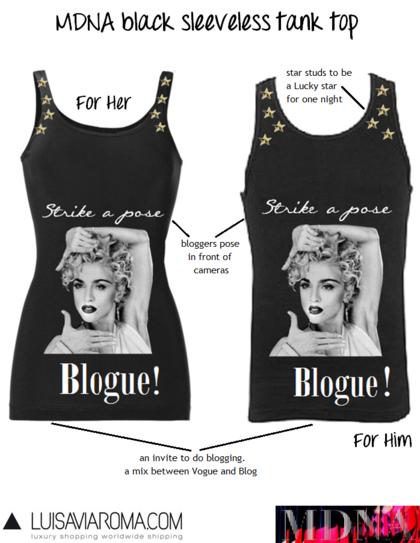 This is my entry for "Get Dressed for MDNA" contest. Vote for me!